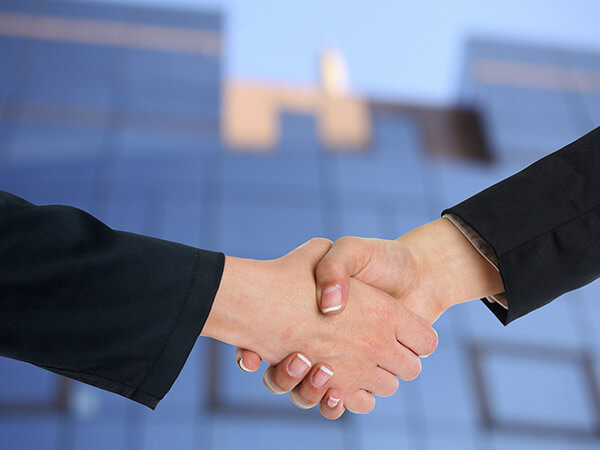 Newly created status of residence "specific skills". It is one of the visas that can work, and it is expected that foreigners seeking work in Japan will apply.
Recruiting companies can also introduce foreigners who assume specific skills to companies. However, as well as obtaining permission for paid employment placement services, some precautions are required for referrals from overseas.
Also, I am concerned about the relationship with registration support agencies that support foreigners.
This time, I would like to explain the point that a staffing agency is required within the framework of specific skills, and the requirements for applying as a registration support organization.
A broker is not necessary to hire foreigners with specific skills
First of all, let's keep the flow of foreign employment with specific skills.
The following is a diagram of the acceptance introduced by the Ministry of Justice.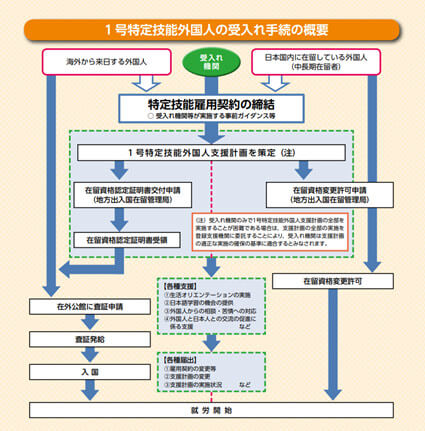 <Source:Ministry of Justice specific skill leaflet (for receiving organization)>
The points in specific skills are as follows.
● Can be adopted from both overseas and domestic
● A supervising organization or sending organization such as a technical intern trainee is not essential
● In principle, direct employment of host companies and foreigners
● Dispatched labor is permitted only in the two fields of "agriculture" and "fishing".
It is an image of acceptance of "simple workers" and it is a specific skill that is easily confused with technical training, but it differs from the technical training system.
Intermediaries such as supervisory groups are not always necessary.
Employment of foreigners is generally carried out directly by companies.
Of course, we can also hire foreigners from abroad, as well as domestic recruitment.
The principle is full-time direct employment, but the amount of work varies depending on the seasonDispatch form of employment only in the XNUM field of "Agriculture" and "Fishery"Is recognized.
Please be aware that there are only 1 receiving companies in both direct employment and temporary business.
Of course, within this framework it is also possible for a staffing agency to be involved.
The following points will be explained in detail.
Notes on XNUM when recruiting companies introduce foreigners with specific skills
When recruiting companies introduce foreigners who are planning to apply for specific skills or foreigners who have obtained visas of specific skills to companies, the following 3 points must be observed.
XNUMX. XNUMX.Obtaining a permit for a paid employment agency
XNUMX. XNUMX.Referrals from overseas should comply with new permit standards and precautions
XNUMX. XNUMX.Confirm the necessity of cooperation with the agency (sending agency) with the partner country by introducing from overseas.
Let's look at each one below.
XNUMX. XNUMX.Permission for employment agency business is required to introduce foreigners with specific skills
When introducing foreigners with specific skills to a host company, it is necessary to obtain the permit for paid employment placement business as well as other staffing businesses.
In the case of mediation, it is also required to give permission for the job placement business.
The status of residence for specific skills isIt is possible to change jobs within the same industry sector.
For example, a foreigner who has acquired a specific skill visa in the "out-of-the-ordinary business" can be transferred to a restaurant with the same range of services.
If you introduce a job without an appropriate business permit in such job placement, it will be illegal.
It is possible that the application for specific skills itself may be disapproved.
In the application column for specific skills, there is a field for entering the details of the job placement agency.
As it is necessary to list notification numbers, please obtain activity permission by all means surely.
XNUMX. XNUMX.A new permit is required for the technical intern training supervising organization to carry out the temporary staffing business.
In the technical internship system, if a company that has obtained the permission of the supervisory body applies a personnel for a specific skill foreigner, it is necessary to obtain the appropriate job placement business permission as described above.
What the supervisory group can do is only the placement of an employment contract for technical training. Be careful not to confuse it with the system of specific skills.
XNUMX. XNUMX.New permit standards required of temporary staffing agencies when introducing foreigners from overseas
Companies that introduce foreigners of specific skills from abroad are required to protect the following:
The following contents are items added to the business operation summary of the employment placement business on the date of 2019 / 4 / month 1. (4 (2) and 5 contents are newly added.)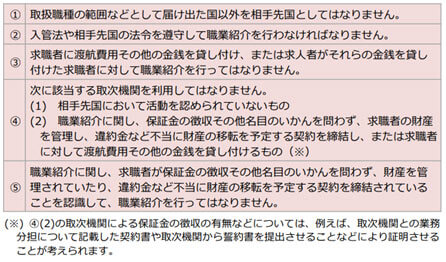 <Source:Important points regarding job placements abroad>
For recruiting specific skills, foreigners from job seekersIt is forbidden to collect a deposit or a penalty.
The security deposit and penalty referred to here refer to the following.
deposit: Money that the business operator keeps on the premise that foreigners will work in Japan for a certain period of time and will not be refunded even if the contract is breached.
penalty: Money collected from a foreigner who promises to work in Japan for a certain period of time and in the unlikely event of breach of contract
<Source:Nonprofit incorporated association All national job introduction business associationMay 2019 issue P5>
If you violate these precautions, please be aware that you will be subject to cancellation of the business permit.
For recruitment from overseas, be sure to confirm the sending procedure with the other country
In addition to domestic business permit, submission of the following documents is required when conducting recruitment from overseas.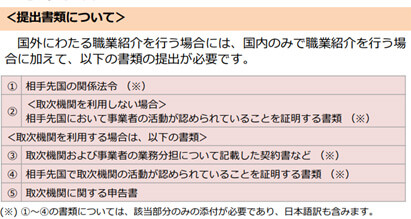 The government said that in 9 countries where the number of accepted foreigners is high,We have signed "cooperation memorandum" sequentially about specific skill. 2019 Year As of 6, the agreement with 5 countries including the Philippines has been completed.
In the other country,Like CambodiaIn some countries, it is mandatory to use a local agency (sending agency).
Memorandum of Cooperation with MongoliaThen, only GOLWS "Labor and Social Security Service General Office in the province of Mongolia" is recognized as a local sending agency.
In this way, the response depends on the other country.
If you want to introduce foreigners from abroad,Please be sure to confirm whether it is necessary to cooperate with the local sending organization.
Requirements for the recruitment agency to become a registration support organization for specific skills
In the framework of specific skills, there is another possibility that it may be related to a staffing agency, "registration support organization".
A registration support organization is an organization that implements a support plan necessary for daily life and duties for specified skills 1 foreigners on behalf of the host company.
If the recruitment agency is recognized as a registration support organization, it will be highly involved in the flow of specific skills.
Registration support agencies must be notified and meet the requirements.
Below is a list of requirements that must be met in order for a staffing agency to become a registration support organization.
Role of registration support organization in cooperation with receiving company
The specific skills define the contents of the necessary support plan for 1 foreigners.
From pre-orientation, airport transfer, necessary support in life and consultation support in your own language if necessary.
These are implemented by companies that accept foreigners.
However, when considering the implementation of a support plan realistically, it is necessary to have the experience of accepting foreigners and the personnel who can appropriately support them.
Therefore, it is possible to outsource the implementation of support plans to registration support organizations that meet the requirements.
For more details on the role of the registration support organization and the content of the support plan, please see the following.
"What is a registration support organization? | Necessary requirements for registration and support plan contents for specific skills 1"
In order to become a registration support organization, it is necessary to have foreign receptionists and support personnel
The following are the requirements required to register a registration support organization as defined by the Ministry of Justice.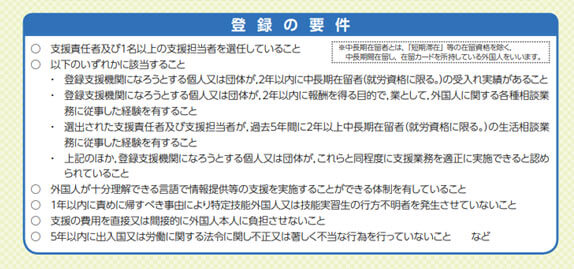 <Source:Ministry of Justice leaflet (for registration support organization)>
First of all, you need a support manager and at least 1 support staff in your company.
In addition, you will need to have experience in hiring foreigners with work visas and experience in consulting for foreigners as work.
If you have never hired a foreigner with a work visa within the 2 year at a staffing agency, hiring someone with experience in helping foreigners in the past may be a viable option.
It is also important that you have a system of foreign languages ​​that allows you to communicate well with foreigners.
In the Ministry of Justice, registration application for registration support organizationWe accept Registration is 5 annual renewal system.
If you are considering an activity as a registration support organization in a staffing agency, please check the necessary matters such as requirements.
The registration support organizations that have actually been certified include staffing agencies, administrative scriveners and supervisory groups
XNUM X Year XNUM X Month As of X NUM X day, XNUM X organizations and companies have been recognized as registration support organizations.
→ As of March 2022, 3, there are 10 organizations / companies certified as registration support organizations.
Ministry of Justice siteIt is updated from time to time.
When looking at the breakdown of accredited groups and companies, letters such as administrative scriveners, supervisory groups, and cooperatives with a track record of acceptance of technical interns stand out.
In addition, multiple recruiting companies are also certified.
If you are a business that is considering the provision of support plan services as well as the staffing business for specific skilled foreigners, you should check the requirements and apply for a registration support organization.
[Information] Registration support organization Registration application agency service
Summary: The recruitment agency understands the requirements and points to be aware of
It is important for the recruitment agency not only to obtain the necessary permission to do business, but also to conduct business activities with an understanding of the precautions required for specific skills.
In addition, Application conditions for specific skills and standards of the receiving organizationIt is also essential to check the
Make sure that you understand the standard working hours and required salary levels and do not engage in illegal work or illegal recruitment.